The global(izing) city contains several cultural time zones which are familiar to frontier migrants
Photo by DuBoix at Morguefile.com
Written by guest blogger Melissa Tandiwe Myambo
One early morning in New Delhi, a young American woman who had recently migrated to India said to me, "Thank God for Google Maps!…[My move to India] wouldn't have been possible…[without] all these stores…Zara is here, Starbucks is here…"
Although India's capital is a notoriously tough city for Westerners to live in – the pollution, immense income disparities, the everyday struggle to negotiate with vendors and autorickshaw-wallahs and so on – this woman, whose parents had left India before she was subsequently born and raised in the USA, described her migration as being made possible by globalization.
The migration experience for migrants, refugees and even tourists has been totally transformed by technology (Google Maps, Uber, email, WhatsApp, Skype, Facebook, YouTube, and so on).  My research on migration and globalization finds that technology makes it easier for those far away from their home country to feel closer to those left behind because communication technologies enable convenient and free communication with no time lag.  But technology also makes them feel more at home in their new country.
The plethora of GPS navigation apps makes it easier to find one's way in a new city.  And the fact that the same apps are available in several countries means that the new migrant just has to flip on her smartphone and continue where she left off in her home country.  Dating on Tinder or watching Netflix or shopping on Amazon or similar online retailers is now possible in scores of countries worldwide.  Because of technology and globalization, crossing a national border into a new country does not necessarily mean a disruption in lifestyle.  However, my research also finds that migrants from "developed" countries like Japan and South Korea and those in the UK, EU and North America have a significant advantage over other types of migrants when it comes to "finding home" in a new country.
"First World" Dominance
"Developed" or "First World" countries tend to dominate the process we call globalization and that means that migrants from these countries can find their home media, goods, food, apps, architecture, urban design and microspaces I call Cultural Time Zones (cafes, gyms, stores and so on) almost everywhere.  For example, the top three most watched TV shows in the world are all American: The Big Bang Theory, Game of Thrones and then Grey's Anatomy.  These are "global" hits but often, when we use the word "global," it refers to something that comes from a "developed" economy.
Often, during the course of my research on frontier migration – the move of people, capital, ideas and technology from a more "developed" economy to a "developing" one – migrants mention the foods that they miss most from their home countries.  However, with the intensification of globalization in the 21st century, frontier migrants, more often than not, are able to find much of their traditional cuisine in their new countries.
"Global" Food
Starbucks, the well-known chain of coffee stores, operates in about 40% of the world's nations.  McDonald's, the iconic hamburger chain, operates in over half the world's countries.  Coca-Cola is drunk in practically every country in the world.  All these companies come from the USA.
The top ten companies that control the world's food supply such as Associated British Foods (ABF) and Switzerland's Nestlé have a common geographical origin.  They are all American or European.  For frontier migrants from the US, the UK and the EU, this means that they often encounter familiar brands and foodstuffs on their travels far from home.  Frontier migrants from Japan and South Korea do not find as much of their home food although sushi is becoming increasingly popular globally but they do find other things that remind them of home.
"Global" Brands
Japanese and South Korean cars, televisions and phones dominate the market in many corners of the globe.  Toyota, Honda, and Hyundai which also owns Kia are some of the world's most popular cars.  South Korean company, Samsung, has some of the most popular smartphones in the world and Sony electronics are a dominant Japanese brand in several countries.
Other "developed" countries' automobiles and smartphones are also ubiquitous in many economies.  German cars like the Mercedes-Benz and BMW dominate luxury sales along with British Aston Martins and Rolls Royces.  No discussion of the smartphone is complete without mentioning US company Apple's classic iPhone but beyond food, vehicles and electronics, frontier migrants find the urban landscape of many of the world's globalizing cities like Shanghai, New Delhi, Johannesburg, Moscow, and São Paulo deeply reminiscent of what they left behind.
"Global" Cultural Time Zones
Gleaming skyscrapers that are part of an impressive vertical skyline are increasingly part of a city's claim to global status.  Skyscrapers are an architectural form that was born in the USA in the second half of the 19th-century and now they are built in every country.  For frontier migrants, this is just one example of the multiple "global" cultural time zones (CTZs) they will find in the globalizing urbanscape of their new cities of residence.
Western-style CTZs like the American Starbucks and the British chain Costa offer the same lattes and snack foods everywhere.  Fast food American restaurant chains like McDonald's, Kentucky Fried Chicken and Subway are often present in middle-class neighbourhoods in globalizing cities offering familiar fare.  When it comes to exercising, Planet Fitness, Gold's Gym, and Fitness First are some of the "global gyms" founded in the West but now operating in numerous countries.  If a frontier migrant should want to buy new clothes, he will again encounter more familiar brands in any of the American-style malls which are increasingly popular in developing countries.
According to McKinsey's Global Fashion Index, 97% of the world's retail sector profit is dominated by ten European and American companies including well-known brands like Zara, H&M and Nike. After buying new clothes, the frontier migrant may want to show them off in a hipster bar, another US export to the world.
Or, he can just snap some pics on his phone to post on his social media feeds so that his friends and family in both his home country and his new one can offer their opinion.
Either way, globalization and technology have completely transformed the migrant experience, especially for frontier migrants from "developed" countries which already dominate globalizing processes.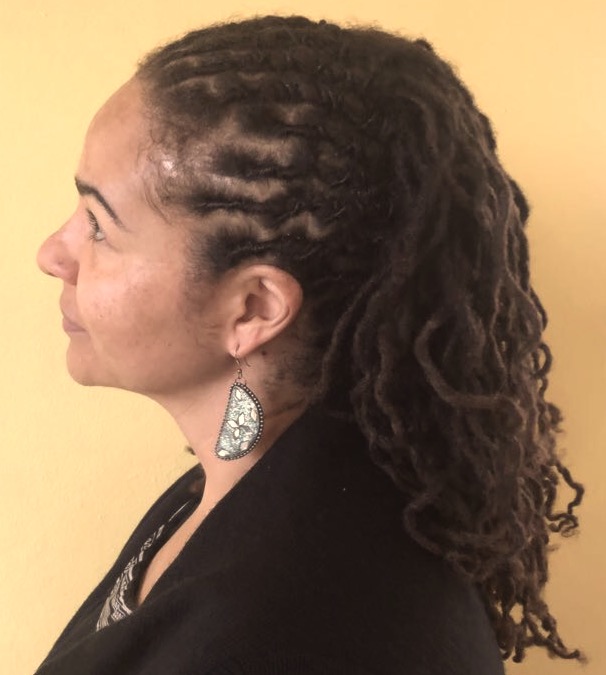 Melissa Tandiwe Myambo is a research associate at the Centre for Indian Studies in Africa at the University of the Witwatersrand and an Honorary Research Fellow at the Wits City Institute. She was a 2017 Johannesburg Institute for Advanced Study Writing Fellow and the recipient of a Fulbright-Nehru Academic and Professional Excellence Award to conduct research in India in 2016, where she was affiliated with the Centre for the Study of Developing Societies in Delhi. Myambo has a PhD in comparative literature from New York University, and when the weather is warm, she lives in Brooklyn, New York. Links to her other writings can be found on her website. Her current research focuses on globalization, migration, and "hipsterification" (hipster-led gentrification).
Her latest article in Diaspora entitled "Bloody Diaspora Theory for the Twenty-First Century: African and Asian Heritage Migrants Return" is free to read for a limited time here.