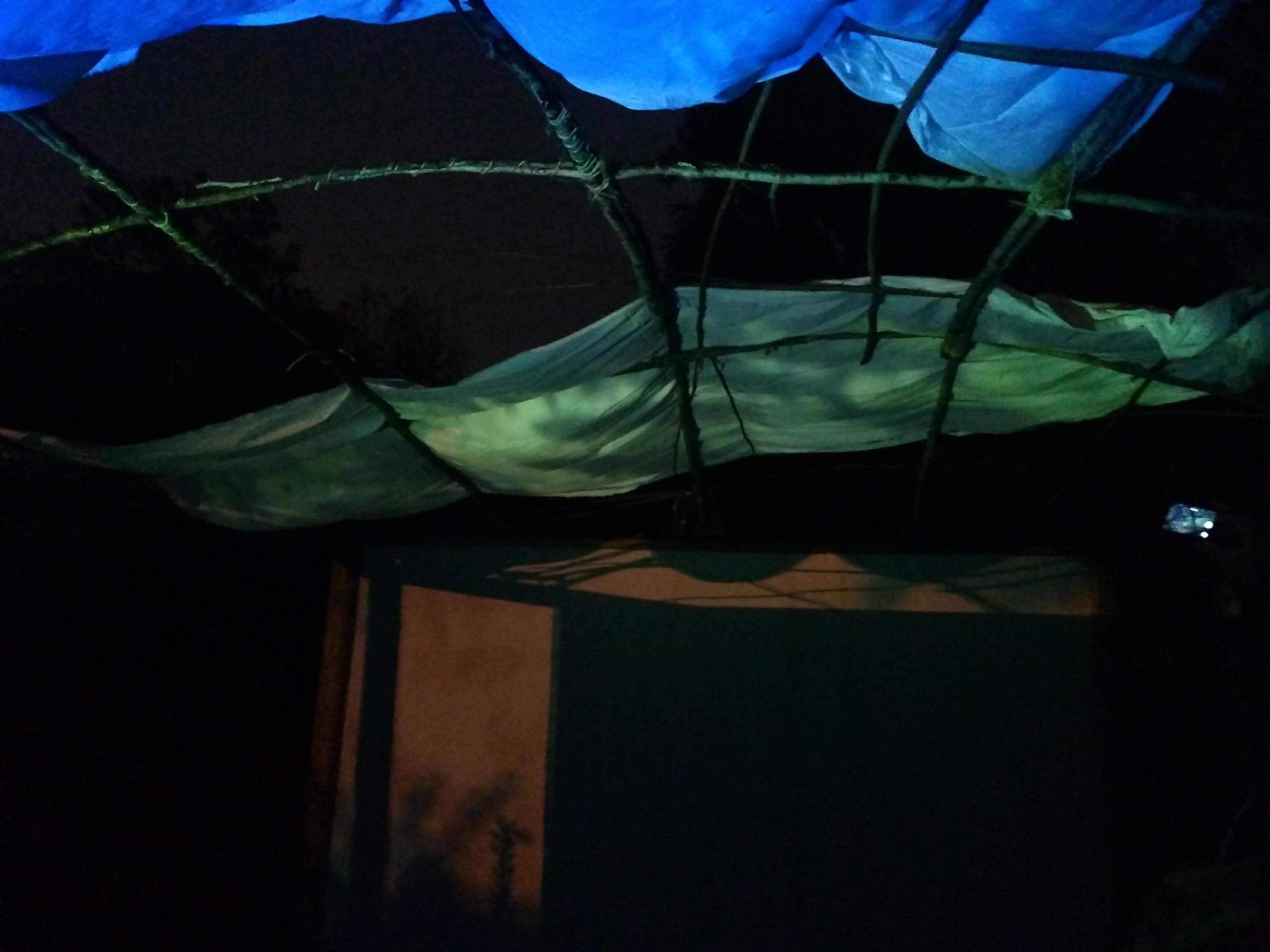 Projections of salmon on lodge roof. Video and sound installation at the Lift Lock community garden, Gitigaazh 2019: Soundings and Corn Roast with Jenn Cole & Ron Benner, curated by William Kingfisher in association with Artspace, Public Energy's [in]sites Festival, 2019. Photograph by Jenn Cole.
Written by guest blogger Jenn Cole.
All over Turtle Island, one finds water in places that ought to be dry and missing from spaces wherein she used to thrive. I think of Helen Knott's poem calling out Prime Minister Justin Trudeau on the irresponsible building of the Site-C hydro dam that will flood 128 kilometres of the Peace River watershed, disrupting relationships with the lands and waters that sustain First Nations in that territory (Cox). In the poem, Knott walks across an expanse that will soon be under water, the suspense surrounding the coming destruction of the land palpable. While this article was in process, I worked with William Kingfisher on site-specific performances exploring our ancestral relationships to g'tigaan, spots on the land where we have traditionally grown and harvested food.[i] The Lift Lock Community Garden is next to Peterborough's most famous lift lock and the Lift Lock Museum. The garden is also the future site of the Canadian Canoe Museum. While we worked on the installation, archaeologists were performing an exploratory dig. They said they weren't going to find anything; everything had been washed downriver before the establishment of the canal. Just over century ago, standing next to the sunchokes, we would have been underwater. Before the disruptive practices of logging and the building of the Trent Severn Waterway, salmon, now extinct, would have swum over us.[ii] Before settlers arrived, for generations, Michi Saagig Anishinaabeg were dependent upon the salmon nation for cultural well-being and for nourishment. Odenabe's name tells us that she is the river the bubbles like a beating heart (Simpson, 93-4). There is a pulse and a movement that this river body remembers and can remind us of.
I ask and learn continually what water bodies remember that people don't remember easily. I try to pay attention to artists and storytellers, like Leanne Simpson, who are layering their nation-specific Indigenous stories and knowledges back into their territories where colonial narratives of extractive development as progress have harmfully held Indigenous presence under erasure. Such narratives, held dominantly, allow for the continuation of destruction of our lands and cultures. Our connections to our relations across watersheds hold knowledge of who we are. Elder Shirley Ida Williams' writes a story about her dad showing her to listen for teachings in the song made between water and boat. She learns to listen so that she can hear them sing "about a child called Shir-o-lee" (438). Millenia of interdependent, reciprocal relationships; our ways of being and knowing; our ways of moving through the world sustainably and in a good way are carried in water bodies. In watershed ecologies, many beings communicate their intelligences and memories.
As I gathered underwater sounds with a microphone from the canal for the performance, headphones on, the Lift Lock Cruise ship rolled by, the roar of its engines overwhelming my senses before Odenabe swelled back, resuming her peaceful "tuke…tuk…tuuke." There is an echo of a heartbeat here. When audience members came through the g'tigan installation, we amplified the experience of layered temporalities and layered land and water ecologies by eating corn together, mixing sounds from underground and underwater, and by watching digital representations of salmon spirits swimming over the roof of a lodge. The violent restructuring of river bodies is not a singular story. Tuning in to what rivers remember challenges the normalization of colonial extraction and returns us to our sovereign, creative relational practices.

Soundscape from Gitigaazh 2019: Soundings and Corn Roast with Jenn Cole & Ron Benner, curated by William Kingfisher in association with Artspace, Public Energy's [in]sites Festival, 2019. Credit: Jenn Cole with Shan Culkeen and Melissa Baldwin.
Endnotes:
[i] I am thankful to artistic collaborators on this work in the garden, Melissa Baldwin, Bennett Bedoukian, Kerry Beebee, Shan Culkeen, Cara Mumford and William Kingfiisher.
[ii] For a story that sees the salmon returning to Michi Saagig territory, see Leanne Simpson's "She Sang them Home" in Islands of Decolonial Love, ARP, 2013, pp. 124-6.
Works Cited:
Cox, Sarah. "'I don't see why anything should be secret': First Nation rejected $28 million in Site C dam Deal, Court Docs Reveal." The Narwhal, 2 April 2020, https://thenarwhal.ca/i-dont-see-why-anything-should-be-secret-first-nation-rejected-28-million-in-site-c-dam-deal-court-docs-reveal/.
Knott, Helen. "Poet Calls Out Justin Trudeau on Indigenous Rights." CBC Arts, Youtube, 12 February 2018, https://www.youtube.com/watch?v=-wPOv5Q0Bm8.
Simpson, Leanne. Dancing on Our Turtle's Back. Arbiter Ring, 2015.
––. "She Sang them Home." Islands of Decolonial Love, ARP, 2013, pp. 124-6.
Williams-Pheasant, Shirley Ida. "When I was a child." First Voices: an aboriginal women's reader. Ed. By Patricia A. Monture and Patricia D. McGuire, Inanna Publications and Education Inc., 2009, pp. 437-9.
Jenn Cole.
Photograph by Laurence Dunne.
Jenn Cole is an Algonquin Anishinaabe-kwe of mixed descent and Assistant Professor in Gender and Social Justice Studies at Trent University. She is Associate Artistic Producer of Nozhem First Peoples Performance Space, editor of Views and Reviews for Canadian Theatre Review, a mother and performing artist. Her research follows the performance histories of two rivers: the Kiji Sibi (Big River/Ottawa River) of her home territory and the Odenabe in the city of Nogojiwanong/Peterborough, where she lives.
Her latest article in the Canadian Theatre Review entitled "Shanty Songs and Echoing Rocks: Upsurges of Memory along Fault Lines of Extraction" is free to read for a limited time here.
The UTP Journals blog features guest posts from our authors. The opinions expressed in these posts may not necessarily represent those of UTP Journals and their clients.