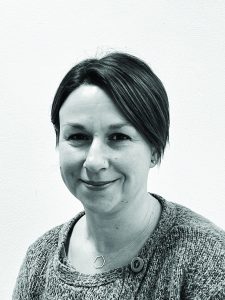 University of Toronto Press is pleased to welcome the new Editor-in-Chief of the Canadian Theatre Review Heather Davis-Fisch!
Heather Davis-Fisch is the author of Loss and Cultural Remains in Performance: The Ghosts of the Franklin Expedition (Palgrave 2013), which was the recipient of the Ann Saddlemyer Award from the Canadian Association for Theatre Research. Her research on Canadian performance history has also appeared in Theatre Research in Canada, Performing Arts Resources, Cultural Studies/Critical Methodologies, and Canadian Theatre Review, as well as several edited collections. Her current SSHRC-funded research project investigates the role of performances in the establishment of settler-colonialism in nineteenth-century Canada and how performance documents and objects can be re-integrated into galleries, archives, and museums.
Heather is the editor of the essay collection Canadian Performance Histories and Historiographies and its complementary anthology of plays, Past Lives: Performing Canada's Histories, both published by Playwrights Canada Press in 2017. Heather has edited issues of CTR on topics such as commemoration, the COVID-19 pandemic, illness and performance, and extractivism (which received the 2022 Patrick O'Neill award for editing from the Canadian Association for Theatre Research).
She is the founding Director of the School of Creative Arts at the University of the Fraser Valley and an Associate Professor in Theatre.
Q: Why did you initially become involved with CTR?
A: I initially became involved in CTR as the Views and Reviews Editor, which I took on in 2015. I was the V+R editor for around 5 years, and then an associate editor from 2020-2022.
Q: What is your favourite aspect about being an editor?
A: My favorite aspect of being an editor is working with authors as they move through their writing. I see editing as an extension of mentoring, and I particularly love working with folks who are newer to publishing—emerging scholars, artists—to shape their ideas.
Q: What are you most looking forward to for the future of CTR?
A: I am most looking forward to working with the associate editors to articulate a vision for the journal as it moves into its 200th+ issues, thinking about how CTR can continue its work of sharing artists' and scholars' perspectives on performance in Canada and how this can be done with a commitment to accessibility and equity.
Read Heather Davis-Fisch's Proust Questionnaire!
The Canadian Theatre Review features thought-provoking plays and articles on current issues and trends in Canadian theatre. CTR provides the Canadian theatre community with in-depth feature articles, manifestos, slideshows, videos, design portfolios, photo essays, and other documents that reflect the challenging forms that theatre takes in the contemporary Canadian arts scene. CTR is available in print and online. Read the latest issue of CTR online now!