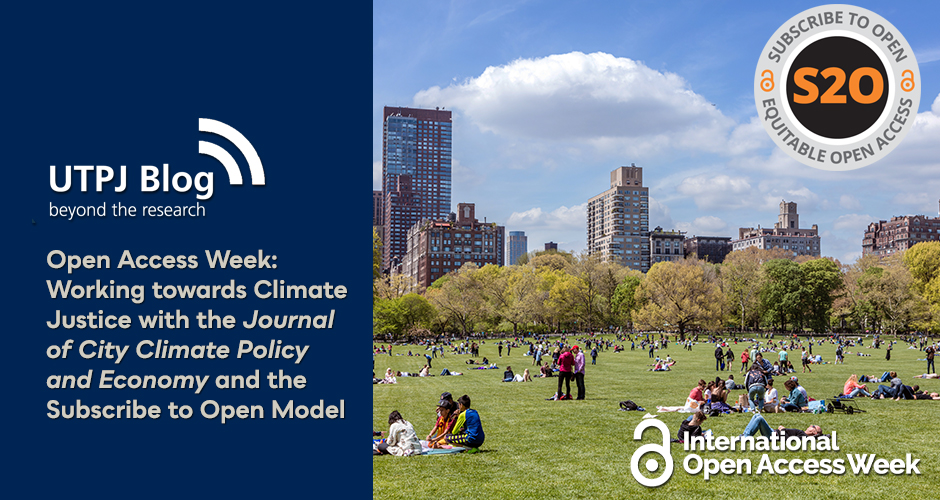 It's International Open Access week! This year's theme, "Open for Climate Justice," focuses on encouraging global collaboration through the dissemination of open access climate research. Access to evidence-based knowledge is essential in order to minimize the devastating impacts of climate change.
The Journal of City Climate Policy and Economy (JCCPE) publishes timely, evidence-based research that contributes to the urban climate agenda and supports governmental policy towards an equitable and resilient world. In 2023, the Journal will publish a special issue dedicated to climate resilience and climate justice. Climate change is unfolding around the globe, but with uncertain timing and unpredictable impacts on different places. Planning for adaptation is shifting from a relatively simple "predict and prevent" exercise to the task of improving urban resilience, or the ability to learn and adapt to climate shocks in specific contexts. This focus on resilience requires flexibility and openness to innovation and change. It also necessitates a renewed focus on justice in order to ensure that the most vulnerable among us can also recover from climate stressors.
In an effort to achieve equity in publishing voices from the Global South and the Global North, voices of early-and late-career researchers, and voices of scholars and practitioners alike, the Journal is available through a Subscribe to Open model (S2O). Institutional subscribers access the content through subscription, as with a regular subscription model. Once an annual subscription threshold is met, the volume year becomes available as open access. This makes the content available to all without any cost to authors. Unlike other open access models, S2O is free for all authors and does not rely on article processing charges (APCs).
Why is this model so important for the Journal of City Climate Policy and Economy?

S2O will provide JCCPE with the model most capable of achieving the Journal's aim of broadly disseminating content valued by scholars and researchers. In an effort to provide city mayors, policymakers, and urban practitioners with critical climate research, it is essential that JCCPE content be accessible to all, as various sectors work together towards a sustainable, equitable, and resilient world.
JCCPE's first issue is available online now! Explore the diverse global perspectives included in the first issue and learn more about JCCPE here: https://jccpe.utpjournals.press