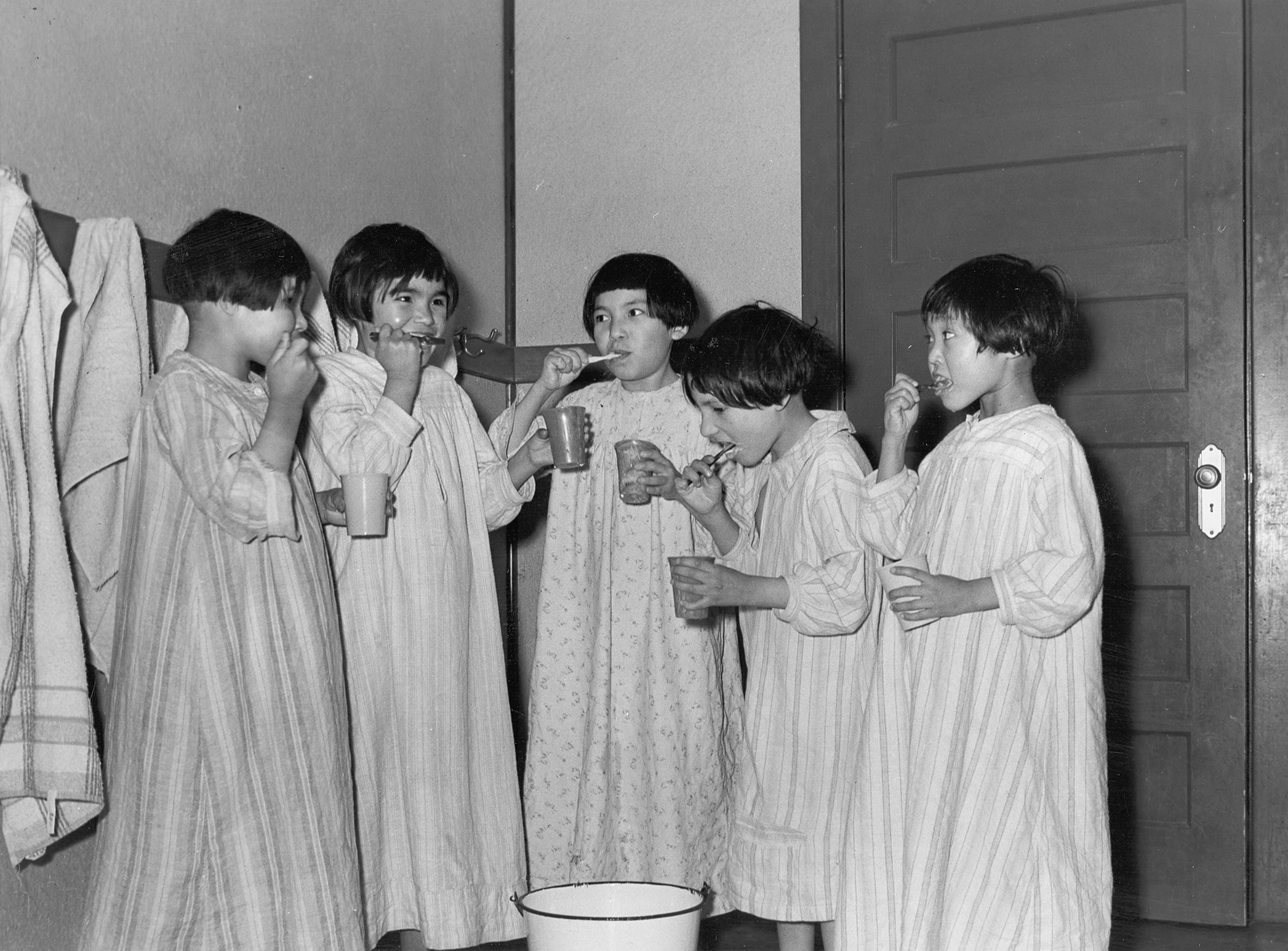 © The General Synod Archives, Anglican Church of Canada.
Written by guest bloggers Catherine Carstairs and Ian Mosby.
Today, Indigenous peoples across Turtle Island are facing the threat of COVID-19. The Navajo Nation has the highest per-capita infection rate in the United States – higher even than the hard-hit states of New York and New Jersey. To date, it seems, Indigenous communities in Canada have had relatively few cases of COVID-19, although as this Yellowhead Institute report makes clear, there is significant undercounting by Indigenous Services Canada. Compared to COVID-19, tooth decay seems like a minor issue. But, in fact, the poor oral health of many Indigenous people today and the threat of COVID-19 stem from the same problem: decade upon decade of 'austerity' budgets coupled with the failure of Canada to acknowledge its treaty obligations to First Nations people with regard to health care and its ongoing policies of "benevolence." As another report from the Yellowhead Institute makes clear, the Crown's negotiators for the numbered treaties promised something quite different—namely, the "ongoing well-being and quality of life of treaty partners."
In a 2017 Canadian Historical Review article, Mary Jane McCallum argued that Indigenous health history was characterized by four keywords: "starvation, experimentation, segregation and trauma." This is certainly true of the history of Indigenous oral health in the years between 1945-1979. Survivors told the Truth and Reconciliation Commission of Canada that there was little dental care in the schools and that the dental care that they did receive was rushed and painful. Adults living on reserves were denied dentures, while others waited in pain for their requested treatment to be approved by the federal government. In 1979, the National Insured Health Benefits (NIHB) Program was introduced, which ended means-testing and made benefits available to people living off-reserve. However, as we demonstrated in another article, austerity and bureaucracy continued to the watchwords when it came to the oral health of First Nations and Inuit people in Canada. In "Colonial Extractions," we therefore draw on Shiri Pasternak's work on "fiscal brutality and permanent austerity" to argue that austerity should be added to Mary Jane McCallum's insightful characterization of Indigenous health history.
Indigenous children in Canada continue to have disproportionately high rates of tooth decay, large numbers of Indigenous people report experiencing ongoing and persistent pain in their mouths and significantly more Indigenous than non-Indigenous people in Canada have no teeth at all. We know that poor oral health is linked to other health issues that disproportionately impact Indigenous communities including diabetes, heart disease and respiratory ailments. The very high rates of these pre-existing conditions are exactly why Indigenous people today are at such high risk for COVID-19. Poor oral health is not the only reason why Indigenous people suffer disproportionately from chronic diseases like asthma and diabetes. After all, food insecurity, intergenerational trauma, and inadequate medical care are also vital to understanding these disparities. But poor oral health contributes to the much higher rates of mortality and morbidity experienced by Indigenous peoples in Canada.
We are still at the beginning of the COVID-19 pandemic, and the worst is likely still to come. The Assembly of First Nations declared a State of Emergency on COVID-19 back in March, urging the government to make preparations and to provide crucial funding, especially for northern, remote and isolated communities. They also demanded to be included in all discussions with governments on planning and preparedness. Hopefully, with Canadians' and the federal government's growing recognition of the ongoing legacy of colonialism and systemic racism, COVID-19 will provide an opportunity to finally fulfill Canada's treaty obligations with regards to health.
Catherine Carstairs is a Professor in the Department of History at the University of Guelph. Ian Mosby is an Assistant Professor in the Department of History at Ryerson University.
Their latest article in the Canadian Historical Review entitled "Colonial Extractions: Oral Health Care and Indigenous Peoples in Canada, 1945–79" is free to read for a limited time here.
The UTP Journals blog features guest posts from our authors. The opinions expressed in these posts may not necessarily represent those of UTP Journals and their clients.