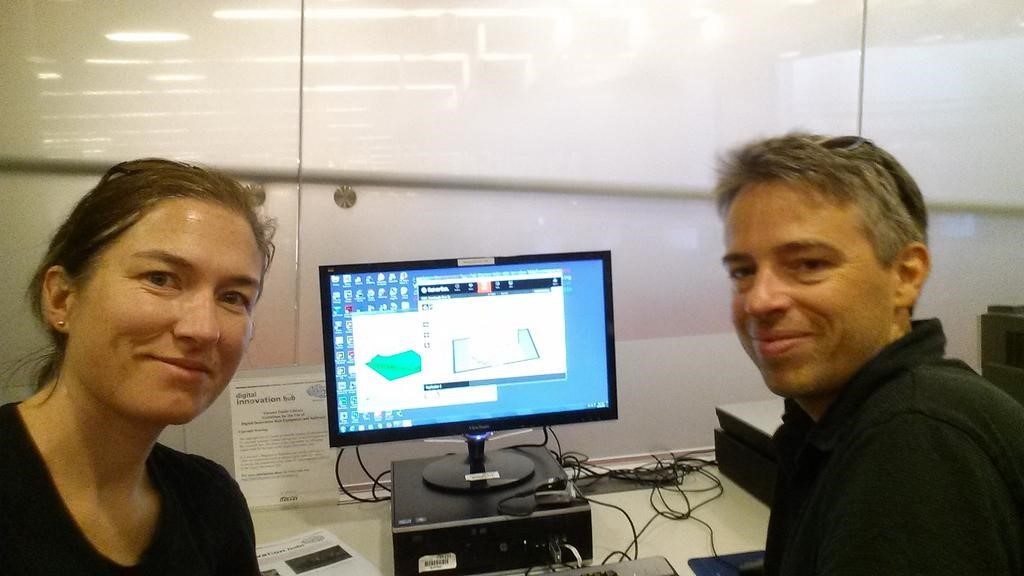 The authors preparing their first 3D print in the Toronto Public Library's Digital Innovation Hub.
Written by guest bloggers Claus Rinner and Claire Oswald.
From the beginning of our experiment with 3D printing of terrain models and cityscapes, we struggled with positioning this work between applied research, technology exploration, and knowledge transfer. Combining our expertise in two of the many subfields of the discipline of Geography, geographic information systems (GIS) and hydrology, we thought it would be great to find out what we could do with affordable 3D printing technology. We acquired limited short-term funding from the McConnell Foundation under a university-internal innovation program geared towards "re-coding education to meet today's social challenges". We also obtained our 3D printing "license" at the Toronto Public Library, where 3D printing is part of the "maker programs" housed in "digital innovation hubs", so we were confident that we were being innovative in one way or another!
Over the course of some two years, and with the help of several students, we processed a number of government open datasets, and transformed elevation data and building footprints into numerous 3D models of regional landscapes and local city neighbourhoods. Being at the forefront of the application of desktop-quality 3D printing in Geography, we experienced tremendous interest from others as well as challenges with ever-changing source data and software tools. When we started posting about the first terrain models on Twitter, several responses led to contacts with practitioners in water policy, conservation, and urban planning, some of whom later participated in our workshop on "Geovisualization of Urban Water to Advance Management and Education". The connections made also included a filmmaker working on a documentary about Toronto's ravines and an advocate for Toronto's lost rivers. One of the groups most interested in the 3D-printed terrain models were regional conservation authorities, for which we printed watershed puzzles—3D terrain models of the agencies' jurisdictions cut up into individual subwatershed pieces.
Tweet and photo of a 3D watershed puzzle created for the Central Lake Ontario Conservation Authority.
The work completed also earned us a conference award from the Urban and Regional Information Systems Association—Ontario Chapter (our poster had two 3D models stuck to it!); garnered lots of attention at the public exhibit for Science Rendezvous, at MakerFestivalTO, and at the Congress of the Humanities and Social Sciences; inspired a number of graduate students' course projects; and yielded a questionable headline in a student newspaper ("Gettin' wet with models, 3D models"). Publishing an article in a scholarly journal was challenging, as the reviewers were understandably wondering what research problem was being solved. We ended up arguing that there was no concrete problem we tried to solve but an opportunity we wanted to explore. We are thankful to the reviewers for helping make the manuscript more concise and to the editor for publishing the article despite its exploratory nature. We hope the great amount of interest encountered during this research translates into readership for the article, and we look forward to developing new 3D-printed maps with interested researchers and users.
Claus Rinner is a Professor and Undergraduate Program Director in the Department of Geography and Environmental Studies, Ryerson University. His research and teaching expertise is in the areas of Geographic Information Systems (GIS), cartography, and decision support systems with applications in public health, social policy, and environmental planning.
Claire Oswald is an Assistant Professor in the Department of Geography and Environmental Studies, Ryerson University. Her research focuses on the influence of landscape characteristics on the transport of water and contaminants in both pristine and human-impacted watersheds.
Read their latest article in Cartographica entitled "Applications of 3D Printing in Physical Geography Education and Urban Visualization" free for a limited time here.
The UTP Journals blog features guest posts from our authors. The opinions expressed in these posts may not necessarily represent those of UTP Journals and their clients.