The next journal we are featuring for Open Access Week 2016 is the Journal of Military, Veteran and Family Health (JMVFH), one of our fully open access journals!
---

The Journal of Military, Veteran and Family Health (JMVFH) is the official, peer-reviewed, scholarly journal of the Canadian Institute for Military and Veteran Health Research (CIMVHR). The Journal aims to maximize the mental, physical and social health and well-being of military personnel, Veterans and their families by publishing world class research to a broad international and multidisciplinary readership of researchers, health practitioners, administrators, and policy makers. JMVFH provides a forum for a uniquely Canadian perspective on contemporary issues affecting military-Veteran populations and their families that supports evidence-based policy development at home and sound comparative policy analysis with international collaborators.
Articles published in JMVFH are made available to all readers immediately upon online publication. Readers are free to read, download, print, search, or link to the full text of any article of their choice.
In our most recently published issue of JMVFH, you will find great articles on a variety of compelling topics, ranging from the transition from military to civilian life, to gender issues in military and veteran research.
Readers also have Advance Access to the following articles featured in our upcoming November issue: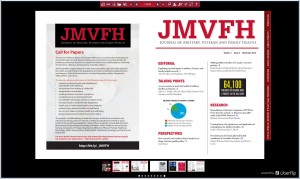 JMVFH Flipbook
Readers have the option of enjoying JMVFH articles in an easy-to-use Flipbook format, which presents readers with a virtual magazine experience and allows them to read or download JMVFH from cover to cover or as individual articles on their desktop and/or mobile device. JMVFH Flipbook offers easy access and navigation, bookmarking and annotations options, embedded links and video/audio and social sharing. Readers can also clip, save and print the entire issue or individual pages from within the highly interactive mobile environment.
You can access the Journal of Military, Veteran and Family Health online here.
Be sure to follow JMVFH on Facebook and join our email list by signing up here!
International Open Access Week 2016 takes place from October 24-30. For more information, please visit http://www.openaccessweek.org/
Happy Reading!