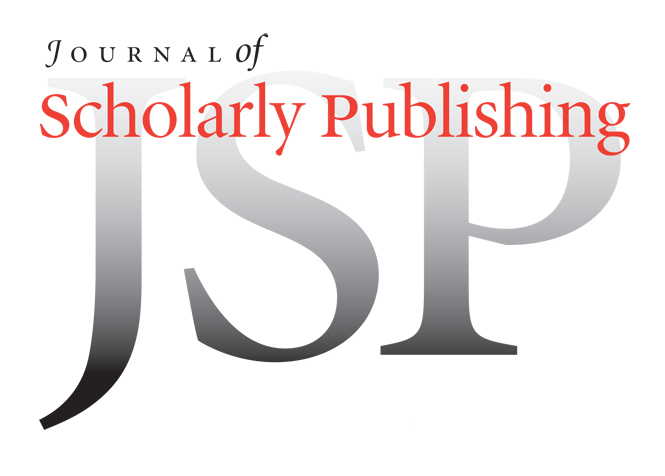 Journal of Scholarly Publishing Special Issue: Digital Publishing for the Humanities and Social Sciences
Deadline: July 15, 2016
Send all submissions to: jsp@utpress.utoronto.ca
Digital forms of scholarship present opportunities and challenges for scholarly publishers, who until recently have been used to defining their work as the production of books and journals in the material medium of print. Now that digital technology has liberated books and journals, as forms, from the necessary materiality of print, the forms of scholarship are being reimagined in ways that were previously not possible.
For a special issue of the Journal of Scholarly Publishing, set to appear as volume 48, number 2 in January 2017, the coeditors invite submissions from those who are currently engaged in the promising but uncertain work of reimagining scholarship in digital forms. For scholarship designed indivisibly from the technology that enabled it or designed dually for digital and print distribution, publishers must work outside the traditional book. But the need to publish remains the same, if publishing means reviewing, authenticating, editing, archiving, curating, disseminating, and promoting scholarship for reception by the audience for which it was created. For anyone with insight or experience in how publishing works, or might work, in a digital medium, we welcome submissions. Anyone could include publishers, librarians, scholars, editors, designers, technologists, administrators, that is, anyone who works within the ecosystem of scholarly publishing.
Suggested submissions include the following:
case studies of ventures, projects, and partnerships in digital publishing
reports of scholarly experimentation in digital forms and the process of making it public
discussions of peer review, editing, design, and production in digital workflows
recommendations for funding and sustainability of digital publications
empirical research on the reach and impact of digital publications
theoretical visions of how the digital medium changes the message of scholarship
assessments of the impacts, both positive and negative, of digital forms of publishing on the economic viability of publishers
studies of the impact of digital options on the distribution and marketing of humanities and social science scholarship
proposals for changes in the ways scholars, librarians, and publishers work together, both within and across these professional categories
Submissions should be between 2,000 and 5,000 words, excluding references, tables, and figures. The coeditors and one outside referee will review all submissions, and those selected for publication will be sent back to the author(s) with queries for revision. Publication will be contingent on satisfactorily resolving all queries. Other specific requirements for the content and format of submissions, including references, are available here: http://www.utpjournals.press/journals/jsp/journal/authors.
The Journal of Scholarly Publishing has been published since 1969 by the University of Toronto Press. It is indexed by Project MUSE, Academic Search Complete, and Computers & Applied Sciences Complete.
Have you read our Author Resource Kit (ARK)?
ARK is a compilation of advice, guidelines and valuable information for authors submitting their work for publication. ARK contains information on the publication process, submitting work for publication, pre and post publication promotion, and much more.
ARK is available free online. >> http://bit.ly/ARKutp