The Editor Spotlight is a monthly feature which introduces readers to the forces behind our journals.  Based on their own experience, editors answer questions which provides insight into their background, responsibilities, and the process of editing an academic journal.
Our first Editor Spotlight will be Priscilla Walton, editor of Canadian Review of American Studies.
Priscilla Walton
Editor of the Canadian Review of American Studies
1.      How did you get started in this field?
I began to attend the Canadian Association of American Studies as a graduate student, and have remained in the Association since then.  I was made co-editor of the Association's journal, The Canadian Review of American Studies in 1997 and editor in 1999.
2.      Who are The Canadian Review of American Studies' key audiences, and does it have a potential readership outside of academia?
Primarily CRAS is an academic journal, but there is always the potential that general readers will find articles interesting and useful.  We try to appeal to a general audience for these reasons, as we try to maintain our scholarly focus.
3.      How do you see The Canadian Review of American Studies developing over the next couple of years, in terms of number of issues and papers per year, special issues etc.?
We may move to four issues a year at some point; right now we have two general issues a year and a special issue, generally
4.      From what sorts of disciplines/policy areas are your authors/audiences drawn?
Our authors are interdisciplinary and hail from American Studies, English, History, Communications, Media Studies, Cultural Studies, economics, political science, health science, and so on.
5.      Will you try to extend The Canadian Review of American Studies' international appeal, if so, how?
We have a strong international appeal and we seek actively to increase it by attending international conferences, inviting international organizations to our conferences, and so on.  Right now we are working with the British Association of American Studies and hope to continue with that alliance.
6.     What is the biggest thing you have learned as the editor of The Canadian Review of American Studies?
I think the biggest thing I have learned is to expect the unexpected.  You really never know what is going to happen next, and you have to be able to go with the flow.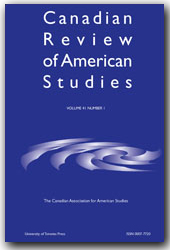 The Canadian Review of American Studies is published three times a year by the Canadian Association for American Studies with the support of Carleton University. Canadian Review of American Studies is the leading American Studies journal outside the United States and the only journal in Canada that deals with cross-border themes and their implications for multicultural societies. The journal aims to further multi- and interdisciplinary analyses of the culture of the US and of social relations between the US and Canada. CRAS is a dynamic and innovative journal, providing unique perspectives and insights in an increasingly complex and intertwined world of extraordinarily difficult problems that continue to call for scholarly input.