Are you in the medical profession and looking for a creative outlet? Are you a med student whose notebooks are filled with thoughtful poetry about your future career endeavours? We have the contest for you!
Ars Medica and CMAJ are pleased to co-sponsor "The 2013 Humanities Poetry and Prose Contest"
Open to all health profession students, researchers, residents, fellows, health care practitioners and faculty working or studying in Canada.
1. Deadline: Monday March 18, 2013.
2. Parameters: All works must be previously unpublished and relate to medical humanities in the broadest sense. Poetry, limited to two submissions per person. Prose works, limited to 1 per person, can be any style (e.g., creative nonfiction, fiction, essay etc.).
3. Length:
a. Poetry – Maximum to 52 lines in length.
b. Prose – Maximum 1500 words.
4. Send your submission electronically to: ccme.contest@gmail.com
In the subject line, state whether your piece is poetry or prose. Include in your covering note your full name, mailing address, telephone number and name of the school or organization you are affiliated with. Please state that your work is original, previously unpublished and that you authorize its publication in Ars Medica or CMAJ. Also please specify if you are a student/resident.
5. Judge: The Ars Medica/Massey College Barbara Moon Fellow.
6. Prizes: The three winners (first, second and third) in each category will receive a one-year subscription to Ars Medica . Winning submissions will be published in either Ars Medica or the CMAJ.
7. Only the winners will be contacted. Winners will be announced at the Creating Spaces III Symposium, held in conjunction with the Canadian Conference on Medical Education in April 20-23, 2013 in Québec City.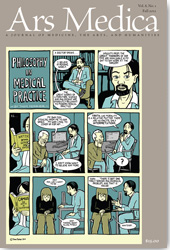 For more information on this contest, please visit the post on the CMAJ website.